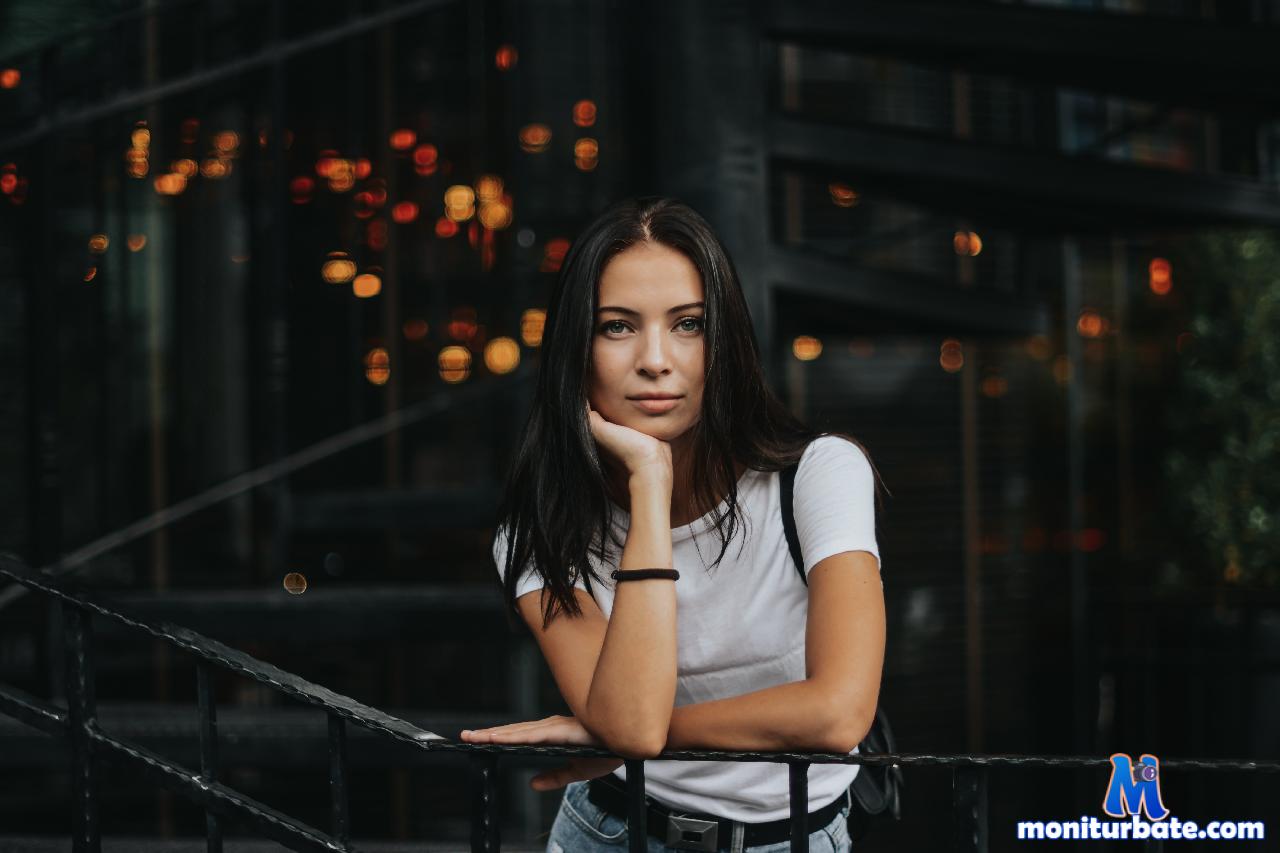 If you've been around the subject of recording chaturbate live shows, you might have noticed that the only real solution available out there is the Moniturbate software.
If like me, you care about your personal computer and you are suspicious about any unknown software (and you are absolutely right to be), I suggest you to look around the moniturbate website and ask yourself the following:
-Do we provide a full featured software for free ?
No, we don't !
-Why isn't it completely free ?
Because we need to make a living.
-Would we be making more money if our software was containing a virus ?
We really don't think so... do you ?
Moniturbate software becomes more popular and used by thousands of Chaturbate viewers worldwide, for the simple reason that it is just working as intended.
Because it is not the most welcomed software of the industry, AV companies have decided to identify our software as suspicious, causing for some of our customers an unpleasant experience. Unfortunately we can't really fight against that, because corporates will always have the last word, but it doesn't prevent us from telling you the truth:
Our moniturnate software does not contain any virus whatsoever
and will never do unless you've downloaded it from an other source than from moniturbate.com.
What the customers love the most about our product, is the direct contact with the developer through our Telegram support group or by Email, which allows us to improve the software based on feedback and feature ideas. Paying customers are taken care of as our own kids and their requests for options or new features have priority. Some features have even been developed specifically for them in a matter of hours. This is how bad we spoil our customers :)
Below a list of features that we have developed, based on customer requests:
-MP4 encoder
-MP4 fix
-Auto split video files above a certain weight
-Select different download folders specific to each model
-Minimize to tray
-Hide the thumbnail
-Play with VLC
-Select a different video size captured specific to each model
-Auto record mode set specifically to each model
-Filter the list by text and status online
Have a look at our software back in 2019 when it all started: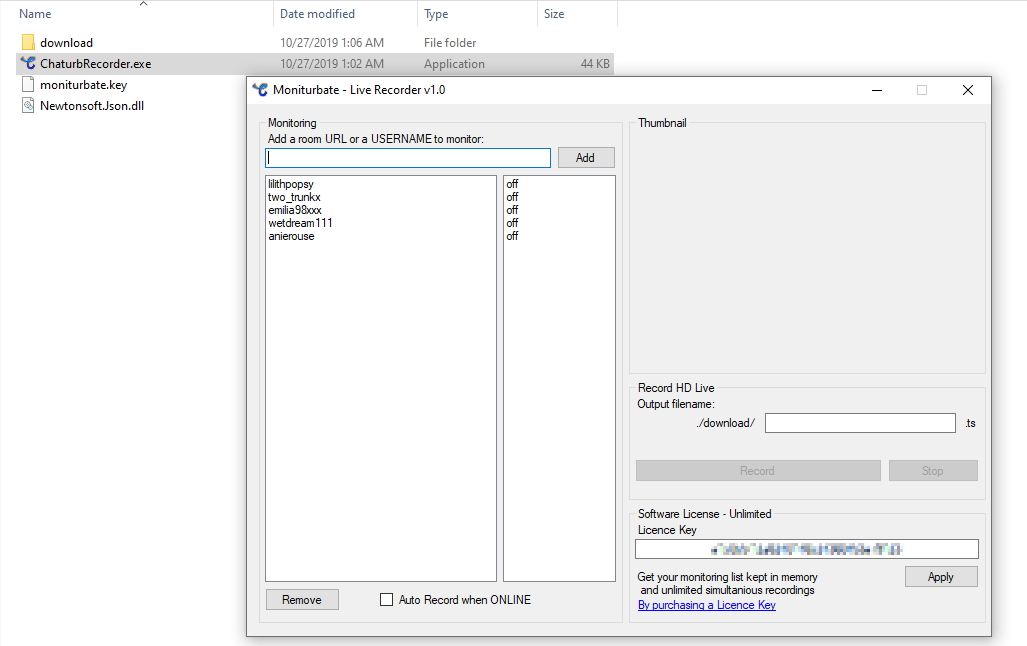 Today we are far away from this old looking version 1.0 thanks to our customer's feedback, and we will keep improving our product day after day, in order to always deliver you with a better experience.
Have a look at our latest version 1.7.1 running: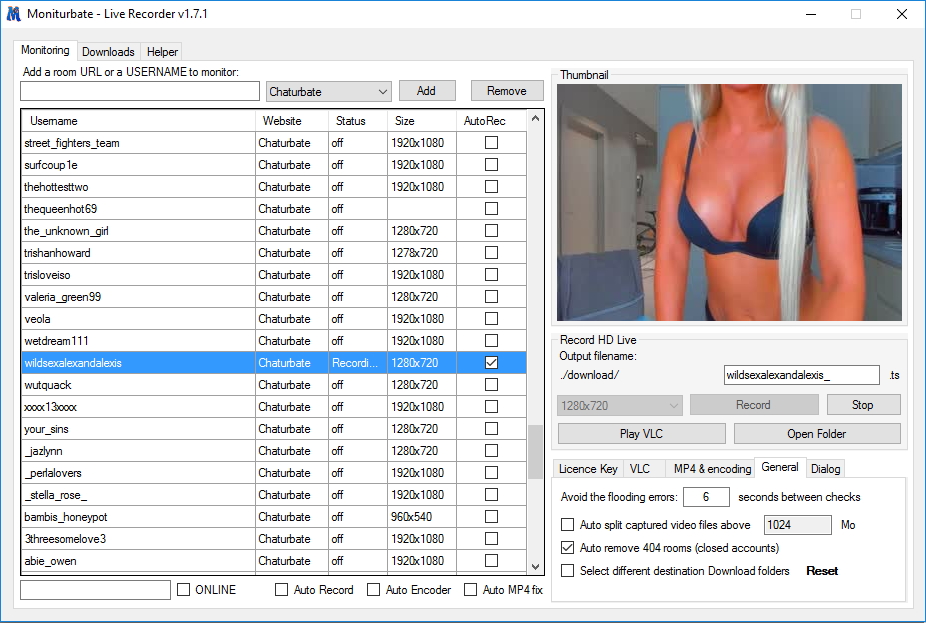 We understand if you're still puzzled regarding the reliability of any software, although we're telling you again: You're safe with us ! But because we live in a world where nothing can be trusted, so we give you a good tips if you wish to run untrusted programs:
Install
VMware Workstation 15 Player
, it is a free of charge virtual computer software, allowing you to run virtual machines on your local computer. Run the moniturbate software within a virtual machine in order to isolate completely the software from the host computer. You can also setup a VPN on your virtual machine in order to have instant access to a machine plugged in any other country. Isn't that super cool ?
So this is a great solution in order to run unknown softwares on a very precious host machine. I personally use the moniturbate software on my host machine (because i am the most aware of the fact that it is virus free), but here is how it looks like if setup in a virtual environment: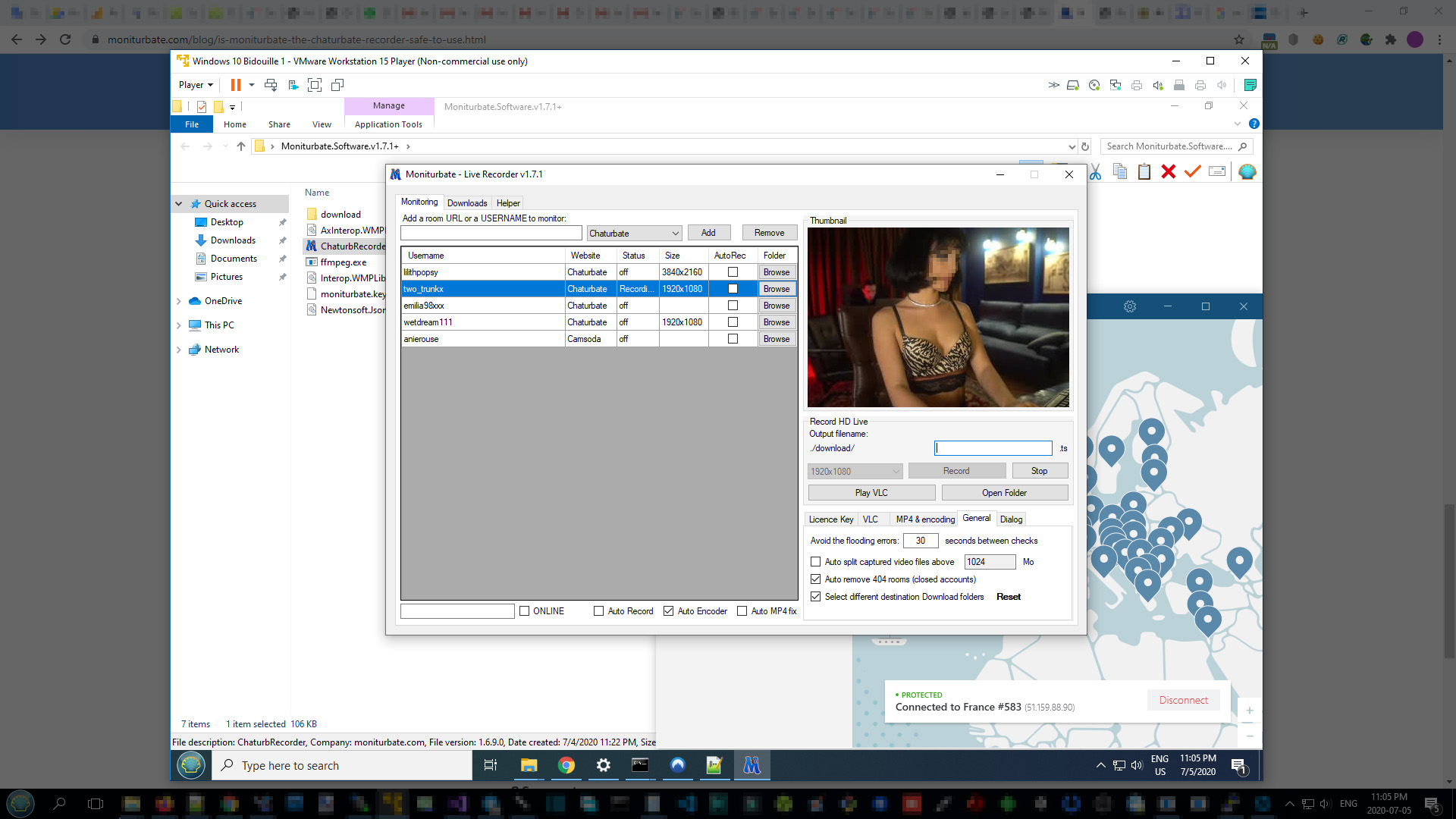 The dark surrounding is my host machine, the clear window in the middle is the windows 10 that i have installed on the VMware the same way that we install windows on real computers, except you don't have to burn the iso :D You can see that i make use of NordVPN to relocate the internet plug of my VM anywhere else in the world (that's totally optional and very awesome), and the moniturbate software is running smoothly, just like it would on any computer.
I hope i answered many of your questions, feel free to comment, to ask or
to contact me
anytime you need.